Member Help
Messages
How do I use the message system?
Our message system is one of the many ways members can communicate with each other on our site. Members can send and receive messages without having to reveal their private email address if they do not want to.
To send a message to another member, click the "Send Message" link (represented by a speech bubble icon) on their profile. If you have previous communication with this member, it will display under their profile summary. Write your message in the box and click the "Send Message" button. Depending on your membership grade and who you are sending your message to, you will have different options:
Standard members sending a message to other Standard members can choose a subject for their message from the "Subject:" drop-down box. You can also write a personal message, but the recipient can't read it unless one member upgrades their membership.
Messages between Gold or Platinum members and other members can include a personalized subject and message.
To reply to a mesage you have received, type your message in the box under the member's message, then click the "Send Message" button.
When you receive a message, it will appear in your Inbox. You can access this by
clicking here
, or by choosing "Messages" from the menu on your member home page. Below is an overview of your Inbox, please click on the image to enlarge it: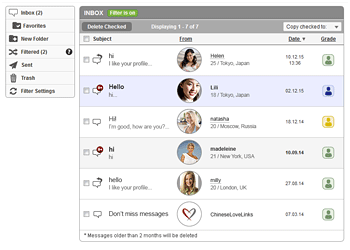 All messages are automatically deleted after 2 months, regardless of whether they have been read or not. For more information about your Inbox Filter, please
click here
. For more information about managing your Inbox with Folders, please
click here
.

Print This Page »