Charito
"We love you InternationalCupid"
Thank you so much InternationalCupid, because i meet this wonderful guy...
I meet my husband Darryl last last January then we start emailing after 4 months of sending emails we start chating by then were engaged June at the same year and he came here in the Phils.
December 24th, our first meeting which is very memorable to both of us. And after 5 months we get married on May 23,2006. Now we are a happy couple and a contented wife to him...
Darryl and Me are saying thank you in a million, if its not your site i can't find this wonderful guy a million miles away from me....
We love you InternationalCupid... more power to your site, God Bless You all ! ! !
Darryl & Charito Richardson
Rjm
"Through this site I met the man of my dreams"
Hello InternationalCupid. Thank you so much, because through this site I met the man of my dreams, his name is ERIC. He very nice person, I meet him in person last July 6 and he spend 2 weeks to me with my family. He is very nice person. I fell love at first sight when I see him in the airport, and I know he feel the same on me. Thank you so much. Ruby
Jay
"i found my wife on here from Filipina Heart"
i found my wife on here from philippines..we got married on dec..20th...i went to cebu on dec 6th 2007...met her and stayed with her and her family for 20 days...got marred at club fort med..it was beautiful....we are now just waiting for her visa....i am from usa and live in wisconsin....we cant wait to be reunited...thanks InternationalCupid....
Jean
"Thank you InternationalCupid"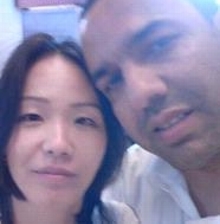 Thank you InternationalCupid. Your site has helped us bridging the gap between 2 countries and united us. We were chatting through webcam and we have met each and have fallen deeply in love. I wish I could describe better how we feel about each other but suffice to say that. I have now proposed her to marry me and she has accepted. We have not fixed a date yet as I must first go to Japan, but you will be the first to know... Thank you again... And good luck to all your members....
Irene married merle
"We met here in InternationalCupid"
Me and Merle met here in InternationalCupid dating site last July 9, 2007. At first I get attracted to his pic. I really want to talk to him that time so I try to IM him but he is so busy talking with someone so I wait and it did not take long because the girl have to go and that become my chance to talk to him. Hehe and when we talk we I feel like I am included in a contest hehehe..... When we talk we are trying to figure out if we both like each other. He do not tell me that he likes me but when I feel he do, even he do not tell me I tell him that I like him to be my boyfriend and Gosh!!! he answer me so fast hehehe... Then after talking for almost 11 months he come here to marry me This June 5 and we married at June 17, 2008... I am so thankful that I found my real soulmate here...
i want to thank this site the InternationalCupid.com for helping me to find my Mr. right!