Succes verhalen
Roxy
"thank you so much InternationalCupid"
thank you so much InternationalCupid for few months being a member of this great site, i found my shining armor, and we will get married so soon...we met last year 2006 of august, then we became friends as we normally shared life experiences..and we had so much laugh,it was so exciting in finding a person like him, so loving and caring, full of life and he makes me happy all the time when we had a chance to talk, we met last April 13,2007 in plantation bay, we met as friends, and as the day goes..something happened, it was that, he wanted me and be with me,i did not expect those things, but then..maybe that was God's sovereign arrangements, i was so thankful for having him and having me in his life, we both love each other, and the love we felt is very special..that no one can resist, i love you Hugh Bell...thanks alot InternationalCupid...for being the bridge of our relationship...more power and God Bless guys.
Steven
"Thanks again, InternationalCupid"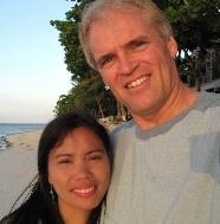 With some fear and trepidation from past online experiences, I joined InternationalCupid in hopes of finding my soulmate. Guess what, I found here, and thankfully I was able to find her within just a few short weeks of joining. Lory and I are engaged. I just returned from two months with her in the Philippines. I could not be any happier. InternationalCupid provided the platform, and Lory and I did the rest. She is the most beautiful and wonderful woman in the world. What more could I ever ask for, nothing.
To those out there that are trying to decide whether or not to sign up. All I can say, is that I swam in some shark infested waters along the way, even on InternationalCupid. There are some out there looking just for you to provide money and things, so be careful, VERY CAREFUL. Demand webcams, and background verification once you find someone interesting. If they are honest, sincere, loving, and in this to really find their soulmate, like my Lory, then you have nothing to worry about. I will tip my hat to InternationalCupid for their service, because I would have never met my angel without InternationalCupid. And I am also pleased by their prompt handling of blocking some sharks, bogus "brides" when I reported them to InternationalCupid. Guys, go for it, just keep your eyes and ears open, and do your homework on anyone that you are serious about. IT REALLY WORKS!!! Once my beautiful Lory gets her visa, we are getting married here in the USA. Thanks again, InternationalCupid.
And to my sweet Lory, you are everything I ever hoped for, and all that I ever wanted, and all that I ever need, I love you!!!!!!!!
Frank
"I found the perfect girl here on InternationalCupid"
I found the perfect girl here on InternationalCupid. Good luck to you in your search and don't give up! There are some scammers on all these sites, but if you are smart and careful you will find the right girl for you. My best advice to you it to immediately block anybody who asks you for money. Don't fall for the sad stories they use to get cash! There are too many good girls here to waste time with those who are playing games. A serious girl will never ask you for money for any reason. Good luck to you!
Sergio
"thanks again to InternationalCupid"
1. Hi everybody, I'd like to tell you all ,my wonderful experience, but first at all I want to thanks god and this amazing site InternationalCupid too, because of they did possible the following story. This is Lorena Im a colombian girl and since I signed in months ago I found interesting people but one of them is currently the owner of my dreams, his name is Sergio from Mexico and know him is the best of my life, he is for me the best human being in the world. we meet each other in this site 2 months ago and we spent hours in chat room, and talking by phone too, he came to Colombia last month and we realized that we are soul mates and we fell in love so fast and we gonna married next december. we are so happy. and really pleased with InternationalCupid so nobody must doubt to sign in this site because really works. thanks again to InternationalCupid. Lorena & Sergio (aug 2007)
Arlene
"We're really so thankful InternationalCupid "
We're really so thankful InternationalCupid for serving thousands of people. In this site, i meet my loving husband here. He told me the very first time about all his bad past life.He doesnt hide everything about his life and that makes me more get interested in him coz his so honest. We're bf-gf January 20,2005 and our hard times was over and we're happily married June 12,2007. We also thank GOD for bringing us together. To filipina ladies, please love your man, let us help each other to erase the so-called trade mark of filipinos (GOLD DIGGER). Let's prove to them that thier wrong. To gentlemen, love your filipina wife, thru thick and thin, to richer and poorer as they called. Make GOD the center of your marriage as what me and my loveable husband did. THANK YOU again InternationalCupid. More Power and GOD Bless this site and to all of us members here. Bruce & Arlene