Mark
"I did find an extraordinary woman here"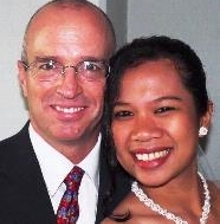 I am leaving a testimonial that I hope will be helpful to all you men searching for love. First I want to say that I did find an extraordinary woman here and we were married. She is simply amazing and is the best person I have ever met. She is smart and beautiful, humble and sincere, honorable and God fearing. She is also incredibly sexy and passionate. In summary she is a perfect wife. So this letter should encourage you all to keep looking. You will be successful - if you are an honorable and respectful man.
I met my wife Gladys when I was chatting with many other girls. At first I thought she was too young and would be immature and shallow. But she was so easy to talk to - always humble and happy. Eventually I saw how special she was and how lacking and dishonest many of the other girls I was talking to were. We began to talk more and more. I bagan to see how special she was. We began to fall in love. And then in January I went to the Philippines and met her and her family and we were married. I have been back once more for a second honeymoon and we are now working on her visa. I love her very much and will be with her for eternity. So miracles do happen!!
Mark and Gladys Mae
Sandy cary
"I would like to thank the team of InternationalCupid"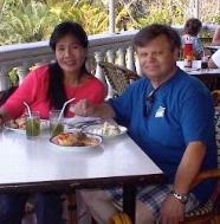 I would like to thank the team of InternationalCupid, because of your beautiful site I met the love of my life and the most wonderful husband in the world, so sweet and so loving, nothing I could ask for more, there's nothing more greater than being with my love for the rest of my life. Now I'm here in UTAH, USA enjoying our life together. It's never too late for all the singles who are also looking for the true love. Don't lose hope. Again thank you so much InternationalCupid people. Susan
Jenefer
"the gifts of god for me"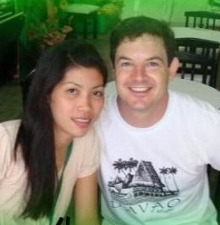 hello every body!!thanks for Cb i am now engage to be maried to MR.MATTHEW. i am happy to be w/him.thanksto the god..matty is the gifts of god for me.. i love you my baby..
muahhhhhhhhhhhhhhhhhhhhhhh thanks for coming in my life baby.. i love you i love you i love you for the rest
of my life
Aynur
"I found my love from InternationalCupid"
Thanks fror a great site. I found my first and biggest love!
Hello thanks for a great site. I found my love from InternationalCupid. I got married with him. I am very happiest women on the world now. I am from Azerbaijanian. My husband from Las Vegas Nevada. I got marry with him. I am sending our photo. We are so lucky and happiest couple we have great love. Thanks thanks thanks!
Guapa (friends only)
"We would like to extend our gratitude"
Like many million successful couples who had found their TRUE love in InternationalCupid. I and my husband have also love story to share. Like others we have our lonely nights being alone but that was changed when we crossed our path here in InternationalCupid way back October 30, 2007. At first we are like best friends but as days and time goes by the feelings we have for each other grows everyday till we felt that we are already falling in love with each other. My life has changed totally because of his love for me. Pure, real, patient, understanding. I have found the best man that I could ever dreamed more than I expected. God give me more that I asked to have a loving husband, best friend, partner in life in good time and bad times of our lives together… Eventually the reality comes when we finally met in real life that was July 6, 2008 at the Centennial Airport in Manila. WOW! That was the first word I uttered when I finally met my husband and told him "baby you are more handsome and younger than in webcam". The same day, while we are together in the room he proposed to me, at first I was smiling and I can not say anything I was surprised though he often said on chat but its really different when you already face each other. I was mixed emotions by that time and then finally I said "Yes". He was extremely overwhelmed and shouting for joy that night… After 8 months of chatting online, phone calls, emails, my husband made me his wife forever. We are now happily married in the civil wedding. It was the most unforgettable day of our lives when we tie the knot for this all we dreamed together to be come as ONE. My family, relatives and close friends were present during our special day… True Love exists on the net if you believe in your heart, nothing is impossible even no matter how far you are with each other. Distance would never be a hindrance if both souls love each other things will possible… Our relationship is really made by heaven with God's blessings. True loves comes when you least expected… It comes for those who wait and never give up to try till you find the right one for you… Don't settle for less always settle for the one that you truly love to make you happy for the rest of your life……
To the staff of InternationalCupid we would like to extend our gratitude and thanks for helping us find each other, through your service I found my loving husband Patrick. More power to you and keep up the good service in helping others….
Hugs and kisses,
Patrick and Darlene NV, USA