Neal
"I'm so glad I found her here"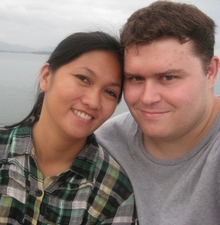 We met in April 2009 on InternationalCupid.com. I went to visit her in July 2009 and had a great time seeing where she lives and some of her family. I didn't decide to propose until September 2009 and then visited her a second time to meet her parents in December 2009 and also to personally put a ring on her finger. She is a very special girl and I'm so glad I found her here.
Luningning
"Thank you to InternationalCupid"
Thank you to InternationalCupid to meet my Prince here to this site. I`m totaly Happy and finally I`m found my soulmate his name is Jeff. Am meet him for almost 4 months start for September. He visit here in the Phillippines to travel and tourist in BORACAY for 15 days and he also visiting me here to Laguna to meet me in Personal. I`m saw him in Personal to Manila airport hotel, to Pick him up and to meet my Family in person. He really great and totaly loving man that I`ve ever met. Thanks InternationalCupid to give me chance to meet my Destiny and the man of my life me and Jeff soon to be merried. He came back here again on April to the Philippines. Nhing and Jeff.
Alma
"Thank you so much InternationalCupid"
Thank you so much InternationalCupid. Me and Bob met each other here last November 2006 we been in relationship for almost 3 years, he keep coming Philippines seing me and meeting my friends and relatives we do have much fun each other. We just been married last August 19, 2009 and now just waiting for my VISA to come UK to settled and be with him forever. Thanks again InternationalCupid...
Lots of love xxx
ALMA & BOB
Adam
"Thanks InternationalCupid for giving us a chance"
We chatted as friend and met as friend last May 7. On May 16 we been engaged. After 2 weeks Adam went back to Japan but we continue chatting, emails and phone calls. When he was in Japan he introduced me to his parents and we started talking. His parents treated me as their real daughter even we don't meet in person. Now I am waiting for the fulfillment of our dreams to be together in USA. Thanks InternationalCupid for giving us a chance to find each other. Adam keep on telling me this word "MAHAL KITA NG BUONG PUSO KO" that makes me feel glad, the kind of gladness that no one can take away from me.
LYNN & ADAM
Mark
"I did find an extraordinary woman here"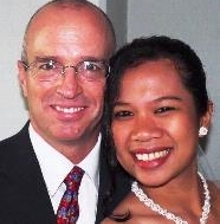 I am leaving a testimonial that I hope will be helpful to all you men searching for love. First I want to say that I did find an extraordinary woman here and we were married. She is simply amazing and is the best person I have ever met. She is smart and beautiful, humble and sincere, honorable and God fearing. She is also incredibly sexy and passionate. In summary she is a perfect wife. So this letter should encourage you all to keep looking. You will be successful - if you are an honorable and respectful man.
I met my wife Gladys when I was chatting with many other girls. At first I thought she was too young and would be immature and shallow. But she was so easy to talk to - always humble and happy. Eventually I saw how special she was and how lacking and dishonest many of the other girls I was talking to were. We began to talk more and more. I bagan to see how special she was. We began to fall in love. And then in January I went to the Philippines and met her and her family and we were married. I have been back once more for a second honeymoon and we are now working on her visa. I love her very much and will be with her for eternity. So miracles do happen!!
Mark and Gladys Mae