Featured Success Stories
Mick
"i found my wife here happily married"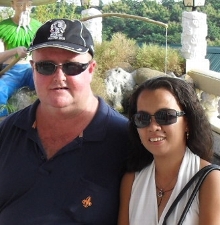 Thank you InternationalCupid i found my wife here happily married with beautiful 1yr old daughter
Frank & Betty
"FINALLY WE FOUND US!!!!!"
FINALLY WE FOUND US!!!!! We appreciate the ease offered to our contact. To my sweet love spent nearly 10 years and for me almost five years until the December 7, 2009, 13 days after a big disappointment, was the person who today is part of my universe. For one week we talk almost every day, but a misunderstanding on my part ended up the contact, but before I delete their data from MSN's wrote in a diary and how everything happens for a greater good ... after almost a year without contact when I was in the beautiful process of learning to have faith, November 3, 2010 I received your message and I replied directly to your email sending my phone number ... the surprise was great to receive your message eager to talk. Since that time our contact was more continuous and December 12, 2010 we began our courtship ... we had a few discussions but honest communication was the key to strengthening our relationship ... we are always open and honest because no matter distance the most important is good communication and respect for feelings. After 3 months of talks, calls, messages and songs started to plan our meeting until March 29, 2011 about 6pm my soul had the greatest joy I had never felt ... meet the man who always waited, looked and Many times I thought no exist. That day I saw this wonderful man whom I love him in ups and downs, whit failures and great qualities, an intelligent, simple, strong, responsible, passionate, determined and sensitive man that every day gives me a delicious mix of love, peace, respect, joy and honesty ... he is to whom I give and I will give my best. So when I saw him at the airport, my excitement was so great that I cried and ran into his arms, closed my eyes and forgot the world for a moment ... In a big hug and big kiss we saw that our feelings are not empty words to wind ... was the beginning of a beautiful honeymoon we enjoyed for 11 wonderful day feeling as if we knew a long time ... do not expect much acceptance of my family and friends who love him but my Frank is a wonderful human being deserves this and much more! Now I can only say to those who want the special person in your life ... just thank God that gives them strength, wisdom and quiet to handle your search and hopes that everything happens for a reason ... just being honest, clear and positive that everything really comes . Thanks to God and to site that facilitated contact us. A hug and blessings to all. With love, Frank & Betty.
Bryant
"I found the love of my life!"
I found a beautiful person. Thank you InternationalCupid! I was skeptical and I couldn't believe it when I found the love of my life! To others who are looking, never give up looking. Love can happen to you, too!!!!! Thanks again, InternationalCupid
Carmen
"I met my husband here"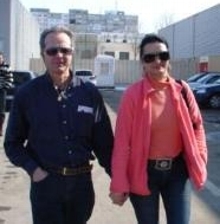 I met my husband here and we are now engaged to be married. After I receive my visa, I am going to marry him and we will begin our new lives together.
Unlucky
"We met each other on this website"
Thank you for your help InternationalCupid. We met each other on this website. We talked everyday and then got to know each other everyday. After 6 months , on my birthday , he asked me to marry him . We will get married in April 2011. Thanks so much InternationalCupid, because I've found my happiness with your help.