Chilly
"This InternationalCupid site helped me get the most special ,loving and humble husband"
This InternationalCupid site helped me get the most special ,loving and humble husband. We have been in a serious relationship for a year now and we are considering marriage next year in April.
Myra
"I found my soulmate"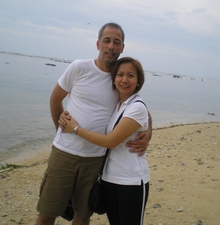 I found my soulmate. Thanks to International cupid. :)
Michael & Anna
" Thank you to everyone at InternationalCupid!"
I am writing to say thank you to everyone at InternationalCupid. Anna is from the Philippines and I am from the US. We began corresponding on this site in 2009 and developed a strong connection. I knew she was the one for me. I first traveled to visit her in May of 2010 and we became engaged at that point and then I traveled back to Cebu in October. Our prayers were answered and Anna arrived in the US on Easter Sunday 2011, a day we will always remember. Our dreams came true when we were married on July 2nd. Anna, is the best thing that has happened to me. We wanted to share our story to not only thank you all for helping bring us together, but also to give people hope that miracles do happen and you can very well meet your soul mate here. Good luck and God Bless Always!
Michael & Anna
Nguyen
"Thank you InternationalCupid!"
Hello everyone, I am Hoang( Vietnamese))and my husband is Cano(Spainish). We joined your dating InternationalCupid website few years ago...Anyway, we would like to say thank you so much to all of you..because you guys gave me a chance to find out a best man of my life who became my husband after 3 years knowing each other...We just got married last month ( 30th June 2011) and then we have decided start new family life together in Vietnam - my country...We were trying to build up the happy stable life and also were thinking about the baby plan as soon as possible We really wish you guys all the best things, especially your dating website will have a well developing next time as well as you will continue bring the happiness to another lonely hearts on the world.. Big hugging and kissing from Cano& Hoang
Aynur
"I found my partner"
hi I found my partner through this InternationalCupid site. Thanks InternationalCupid for everything.